Machines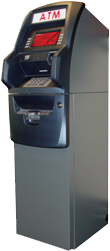 Here at Wellington we believe in accommodating all of our valued Customer's preferences in ATM machines, and we are proud to offer them a full line of ATM machines.
But please be advised….
IF YOU ARE ATM COMPARISON SHOPPING, BE ADVISED THAT WELLINGTON ATMS ARE THE INDUSTRY'S ONLY 100% OWNER REPAIRED ATMS. THE COST OF OPERATING A WELLINGTON ATM IS THE LOWEST IN THE ENTIRE ATM INDUSTRY AND CANNOT BE ACCURATELY COMPARED WITH ANY OTHER ATM CURRENTLY AVAILABLE!
Whether you are a single store owner or the manager of a large chain – Wellington Technologies can help you select the proper owner repaired ATM for your business application. In business since 1994, Wellington Technologies continues to be a small, ethical provider of ATM equipment and processing, catering to a unique group of customers who desire quality products and service combined with low operating costs and long term profitability.
Find out how using Wellington Technologies proven techniques ATM owners have:
Doubled their transaction volume
Freed up 90% more operating cash
Saved $1,000s in repair and maintenance costs
Harnessed the power of high-speed Internet saving an average of $588 per year
Why Wellington Technologies ATM owners experience higher quality service:
No Auto Attendant Unit – We have a Receptionist during business hours (8am – 5pm weekdays) and an answering service after hours & weekends.
Our knowledgeable Technical Support Staff is available 24 hours a day every day including holidays
Easy Internet online access monitoring of their ATM activity.
Frequent Wellington newsletters that contain useful information that keep them informed about our latest ATM related products, services and money saving news from Wellington.
Owners of Wellington's ATM equipment benefit from:
Customized placement consulting and higher resulting profitability
Quick and easy repairs they do themselves and save $1,000's of dollars over the life of their machine
Reliable fully featured ATMs with the industry's lowest operating cost
Daily vault cash and surcharge payments via Direct Deposit
Personal and professional attention
Our ATM equipment qualifies for investment tax credit!